Chinese Single's Day from a German Perspective
admin

December 2, 2016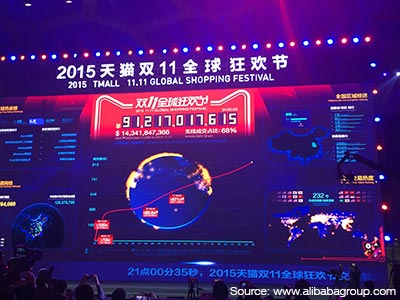 11.11. – Since my stay in China, these numbers definitely have a special meaning to me.
A few weeks ago, my boss asked me to write an article about 11.11. Honestly, I didn't know what he was talking about. All I could associate with it was the start of crazy carnival celebrations in Germany. But I should find out soon that there is actually a lot more behind it…
"Single's Day", that's how 11.11. is officially called in China. Originally, the day was meant to be a counter event to Valentine's Day. A group of Chinese single students came up with the idea in the late 1990's. As an expression of self-mockery of their singledom, they started to make a present to each other on that special day in November. The date was chosen because it fittingly consists of four "single" ones. With the years, more and more people followed this tradition: the official Single's Day was born.
A rising number of singles buying presents for each other? Sounds as if it was just a matter of time when the greed of gain in retailers was inspired by this. And indeed, in 2009 the Chinese E-Commerce giant Alibaba decided to make a commercial shopping day out of it. With success: the Chinese Single's Day has become the most profitable E-Commerce Shopping Festival in the entire world.
Well, I guess German carnival is definitely an odd tradition in the eyes of the Chinese. Thousands of people celebrating the start of the carnival season – dressing up, joking, dancing and throwing candy. But for me, as a German, the Chinese tradition of Single's Day is not less odd than this. Thousands, no millions of people going crazy about an online shopping event – that's just incredible.
I could feel the pleasant anticipation already weeks before the actual event. People were talking about it, TV spots reported nothing else, metro stations were full of posters promoting 11.11. And not to mention the online shopping platforms themselves: promotions, countdowns, discount coupons, super deals, shopping guides and much more. Single's Day was omnipresent for weeks.
And then finally, the event was there. The official start of Single's Day was celebrated like New Year's Eve. The Alibaba Group opened the shopping festival with a big Live-Show featuring Alibaba founder Jack Ma and James Bond actor Daniel Craig. Then the countdown at midnight: 3, 2, 1 – Go! I followed the happenings via Alibaba Live-Ticker online. It took only 5 minutes and 45 seconds and people spent 5 billion RMB online, doubled after 12 minutes and 28 seconds. The next morning, it was still before noon, the GMV (Gross Merchandise Volume) reached the record high of Single's Day 2014. And when the shopping marathon came to an end after 24 hours, people had spent a total amount of 91.2 billion RMB on Alibaba's online platforms. Unbelievable!
It was just amazing to experience this fascinating online shopping event first hand; to witness such a media spectacle, to see colleagues coming to work all sleepy and delivery men giving maximum dedication. And I am quite sure that this was certainly not the last time. As far as I heard, Jack Ma wants to turn the Chinese Single's Day to a Global Shopping Day. And this is way more exciting than carnival in Germany!