Online Ecosystem for Zurich
admin

December 2, 2016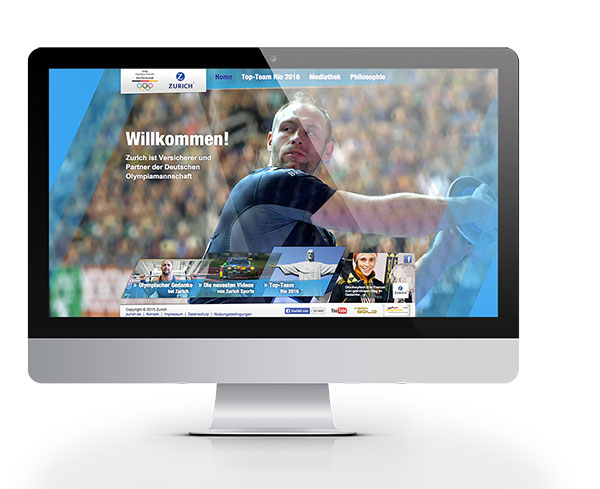 All-Around Service for a Full Service Insurance
mediaman had already been taking care of the digital channels for Zurich subsidiary DA Direkt for 10 years, when Zurich Group Germany asked us to work with them in 2007. After the re-launch of zurich.de, we overhauled their complete online ecosystem, including the integration of 2,000 agents, campaign pages, micro-sites (e.g. for Zurich sports), apps and the mobile website. By implementing innovative tools like the "Visual Life Shaper", mediaman and Zurich digitally paved new roads in the insurance market.
With a consistent presence in all online channels, Zurich wanted to position itself as a high-quality, full-service insurer for private and business customers. Consistently and simply, prospects are lead to reach out to Zurich agents, who in turn are enabled to pick up these leads quickly. By transferring business processes to the website, existing customers are offered a complete online service, reducing internal operating expenses.
As a full-service insurer for private and business customers, Zurich offers a wide array of products and services. The website—with thousands of content pages— and over 2,000 agents and other channels needed to be integrated into the same corporate design on the same backend platform. After the relaunch, the mediaman service team continued to support not only Zurich's product managers, but also the agents in maintaining their pages.
Based on market research, usability tests and focus groups, mediaman developed strategy, information architecture, UX and screen design. A CMS system was implemented in close collaboration with Zurich's internal IT, which was responsible for backend integration. To live up to Zurich's full-service standard, mediaman also developed the "Accident-Helper" app. It's a step-by-step guide to help customers with what to do after a traffic accident.
Over the years, Zurich's website has seen consistently rising user numbers. The online services are well received and actively being used. Through the approach called "My Zurich", in which the whole website turns into the agent's website after it has been selected by the user, a large amount of qualified leads are being generated for Zurich agents. The approach also saves money and resources: no individual agent websites have to be maintained and a consistent brand appearance is guaranteed.