Smart Sharing: Haier's Laundry App
admin

December 2, 2016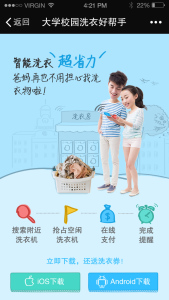 New, digital, intelligent: Haier sets an example that it has understood the principles of shared economy: University students in China can now do their laundry via mobile APP. The APP, developed by mediaman, allows students to locate, schedule, operate and pay. Most importantly, it connects the brand with a future target group.
The challenge of this APP's development was to create an intelligent service product. The connectivity between products and users sets new standards for user experiences. And in this particular case, it reduces laundry times and makes life more simple and convenient.
The Haier Laundry APP has 2 main functions: the laundry appointment service and the laundry pick-up service.The former regulates self-service laundry procedures by setting up appointments, informing about operation times and facilitating payments. By means of the laundry pick-up service the user can order a laundry pick-up service coming to the user's home to deliver the laundry to the launderette. The APP will inform the user, when the laundry is finished. Both functions free the user from bothersome waiting hours and make the self-service laundry more convenient.
With regard to the development process of this APP, mediaman was mainly responsible for the project feasibility evaluation, user experience process planning and design, user function customization as well as user interface prototyping and design.
So far, Haier is very satisfied with the results of this project. Since the APP was launched just recently, numbers and figures as well as more detailed user feedback are expected later this year.