Web App for Zurich's Modular Business Insurance
admin

December 2, 2016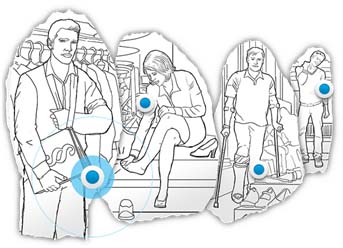 With the help of illustrated scenarios the agents explain Zurich's new Modular Insurance to their business clients. They can identify which insurance modules are important for the individual retailer or service provider. The visual app also points out hidden risks.
Zurich's Modular Business Insurance product offers small business owners (e.g. retail, restaurants, service providers, construction) individualized coverage. Eight different modules can be combined freely to match personal requirements. But how much insurance is needed in which case? The goal is to inform the target audience quickly and comprehensively without overwhelming and distracting details. And that in an interesting manner. The solution needed to be responsive, to support agents at trade shows, as well.
Eight different modules. A huge number of examples. And a lot of fine print.The one thing Zurich wanted to avoid was to overwhelm its business clients with too much information. They wanted the opposite: conveying complex facts in a simple and convincing way.
In addition, Zurich was looking for a more innovative and creative way to approach B2B audiences. The innovation process between Zurich and mediaman, which was sparked by these goals, leads to a unique solution that is one of a kind in the industry.
The resulting web special illustrates real and common examples from the business world. Different scenarios were photographed and illustrated to support agents in their task to win business clients for Zurich's Modular Insurance product.
The examples are embedded into different settings that business owners can relate to. Lurking dangers are highlighted with eye-catchers: a modern combination of illustrations and photography. Possible risks are pointed out quickly. As micro stories. One click away.
The web special proves that it's worth approaching B2B customers with innovative solutions. The app has been well received: In a matter of 4 weeks, more than 10,000 prospects visited Zurich's virtual shopping mall.The above average conversion rate (requests sent through the app's contact form) shows clearly that complex facts were conveyed in an appealing and convincing way.