Website Renewal for Haier Real Estate
admin

December 2, 2016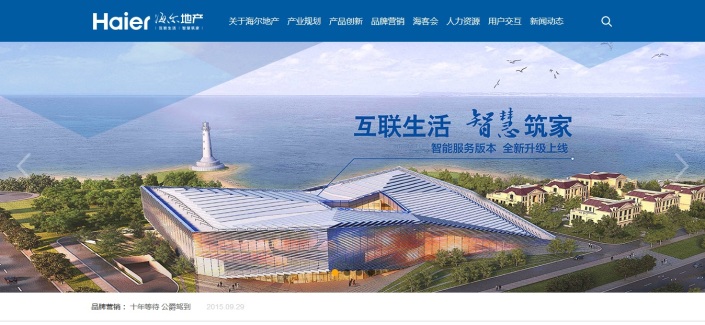 Haier Real Estate Ltd., a subbrand of the Haier Group, is specialized in real estate investments, R&D and management. The company adheres to Haier's enterprise spirit of "creating resources and winning global reputation" and strives to become the most competitive strength and smart real estate brand in China.
In addition to several real estate projects as well as a property management company, the Haier Real Estate Ltd. is holding an investment and development company. Exceeding the Qingdao area, the company has expanded to 20 large and medium-sized cities all over the country such as Beijing, Shanghai, Tianjin, Chongqing, Nanjing, Xian, Wuhan, Changsha, Xiamen, Taiyuan, Hefei, Jinan, Linyi, Taian, Jining and more. The offered product types include industrial, residential, commercial, cultural, and health real estate properties.
As one of the most famous brands in the real estate industry, Haier Real Estate has realized the high importance of an effective online brand communication. Already in 2012, the company entrusted mediaman with the enhancement of Haier Real Estate's online presence.
Due to continuous changes of property types offered by Haier Real Estate, an update of the website had become necessary. And again, mediaman was responsible for the website renewal. As of late, the website displays a new brand image of Haier to its customers and investors. mediaman is very happy to continue to fully support the online presence and brand communication for Haier Real Estate in the future.
www.haierhouse.com